RATHCORAN HOUSE DEVELOPMENT
BALTINGLASS EAST, CO. WICKLOW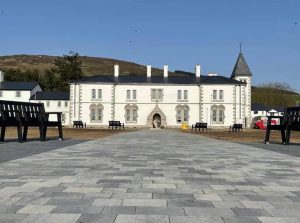 Mixed-use development situated in Baltinglass East, consisting of a Primary Care Centre, social housing, a Convent and all associated social amenities. The development has 45 residential houses, a 16 apartment Convent and a double-storey Primary Care Centre with ambulance facilities and on-site parking. Smith Groundworks were the contractor of choice responsible for all site development.
The site was a greenfield and some of the works undertaken included:
Fully functional Primary Care Centre with ambulance and on-site parking
2 Modern design apartment block
A choice of 2, 3 and 4 bedrooms, energy-efficient housing
Hoarding off-site, clearing and stripping site of topsoil and excess muck
Excavation of all houses, apartment block and primary care foundations
Laying of foul reticulation, stormwater reticulation to IW specifications
Watermain reticulation and associated works to IW Standards
Blacktop road surfacing and parking spaces
Footpaths, slip form kerbs and retaining walls
Ducting for all electrical cables, public lighting and fibre optics
Planting of all green areas, paving of all open spaces and back gardens
All works were done to the highest degree of health and safety. The quality and finishes of all site works are next to none. Great care and effort were taken to minimise any environmental issues and destruction of the natural environment as the development is in a built-up area.
Discuss your Groundworks Requirements