Carlow ETB made up 1 project within the NDFA's Schools Bundle 5, which involve the provision of 4 post-primary schools, 1 primary school and an Institute of Further Education. Carlow ETB comprised of two structures.
The first building, Institute of further Education, will consist of 7800m2 of floor space over 3 floors and will cater for up to 1000 pupils in state of the art accommodation.
The Second building, Post Primary Education, will provide over 9100m2 of floor space and again will accomodate up to 1000 post primary pupils. The campus and its facitities will be shared by the two schools. Smith Groundworks undertook the groun dworks package, consisting of a 45000 m2 of a site strip, initial bulk dig of over 22000 m3, 2800 m of drainage including 2 no attenuation tanks, rainwater harvesting tanks, fire fighting tanks, 6000 m of services as well as 12000 m2 of permeable car parks and all associated roadways, playing courts and hard landscaping.
There was a piling mat constructed within the footprint of the each building and once all the piles had been placed and broken down, SGW poured the ground beams and brought the two buildings up the ground floor level including all internal drainage and services.
This is a rapid built project that comes under constant scrutiny from the NDFA and independent quality control auditors ensuring all the work and material is off the highest standard and carried out in the strictest safety conditions.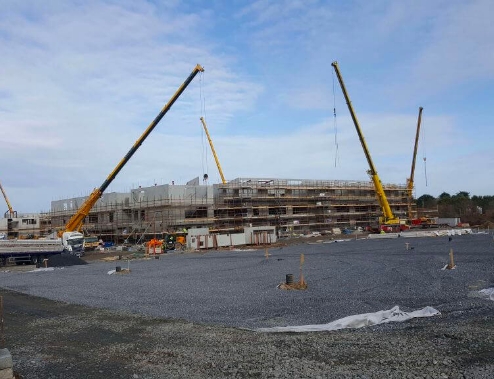 Discuss your Groundworks Requirements