KILGOBBIN ROAD, DUBLIN 18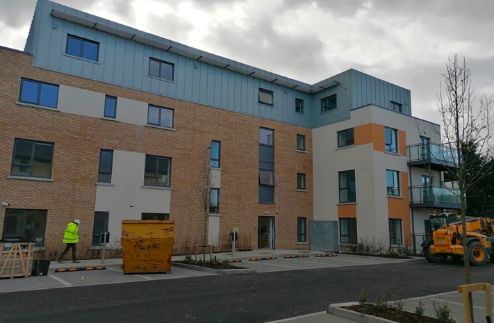 Residential project consisting of a 3 storey apartment block and two double-storey apartment blocks. The development has 32 residential apartments, backyards and children play areas on approximately 4500m2.
Smith Groundworks was contracted to do all groundworks which included among other site works:
Stripping site of topsoil and storage for future use
Excavation of all house/apartment foundations
Installation of an attenuation tank
Laying of foul sewer and stormwater pipes, manholes, petrol interceptors to IW specs
Watermain reticulation and associated works to IW Standards
Tarred roads (HRAC), permeable parking bays with wheel stops, gullies, etc.
Footpaths, slip form kerbs, fences and backyards
Ducting of all electrical cables, public lighting and fibre optics
Demolition and alterations of the main entrance
All works were done to the highest quality. All as-builts were approved and the client was pleased with our high regard for health and safety and quality work. The project is complete and handed over to the Client.
Discuss your Groundworks Requirements